Title: Air Awakens
Series: Air Awakens
Book: 1
Author: Elise Kova
Pages: 377 (Paperback)
Rating: 5/5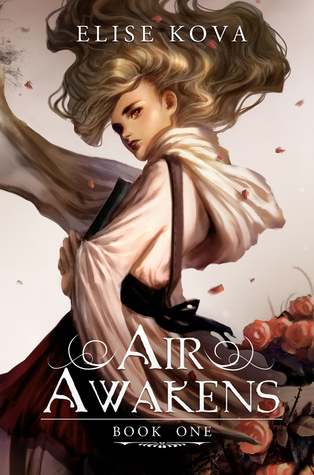 **Warning: Spoilers**
Vhalla is a simple library apprentice, no one special, until one day when she's taken from the safety of her books and swept up by one of the last people she thought she would see. A sorcerer. Next thing she knows, she's told she has magic. Vhalla will not stand for it. She demands to be let go, back to her old life, but things are different. Dark shapes of sorcerers are following her every move and when she starts receiving letters from a mysterious sorcerer with all the answers, nothing is the same again.
As soon as I read "library apprentice" I knew I made the right decision to pick this up, but it didn't stop there. Why I didn't pick this up sooner is a mystery to me.
Air Awakens
is fast-paced and shocking with twists and turns that constantly kept me on my toes from page one till the very last word. The relationships are all entirely realistic, with no instalove! There truly was never a dull moment and, while I read it relatively fast, I wanted to savor and hang onto every word like my life depended on it.
I love Aldric. I can't read a book with a mysterious, dark male character and not fall in love with them. Aldric embodies everything I love about dark characters. Not to mention I ship him with Vhalla and they make me happy. The moments they share are so raw and real that it almost hurts to read, but then you just want more!
Overall, I certainly recommend, I just hope this doesn't throw me into a reading slump. Don't mind me, I'll just be spending the money I don't have to get the next book before I spontaneously combust.