Title: The Program
Author: Suzanne Young
Series: The Program
Book: 1
Copy: Hardback
Pages: 405
Rating: 5/5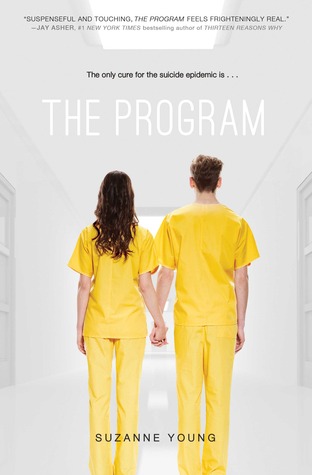 The Program
is a heartbreaking novel about young love and the importance of family and friendship. I picked up
The Program
because it sounded interesting enough. When I started reading, I intended to just read the first few pages to get a feel for in, but what I ended up getting was a book that sucked me in so fast I finished it in one sitting.
Sloane lives in a world where suicide is an epidemic. Almost everyone knows at least one person that has committed suicide. In the hopes of ending the epidemic, the government comes up with a solution, the Program. Unfortunately, the Program isn't all it's cracked up to be. In order to be deemed "not infected" or "cured", you have to spend six weeks in an institution. People that come back from the Program aren't the same. They don't act the same and they don't remember any of their friends and little of their past. Some people die before getting to the Program, some are shipped away, and some kill themselves before the Program can take them, choosing to die instead of living as a shell of their former selves.
Sloane's brother killed himself, leaving Sloane heartbroken and feeling helpless. Luckily for her, she has James. Her other half, the love of her life, and her soulmate. Together, they try to fight the Program, staying off the Program's radar, hiding just how scared and sad they really are. When their friend commits suicide to avoid being put in the Program, James falls off the deep end, slipping into a depression that Sloane can't pull him out of. Her attempts at making him appear normal work for weeks only to falter. James is shipped off the Program and returns with no memory of their love. Sloane's life spins out of control, with no direction, no James, and no hope for him coming back to her.
This book is one of my new favourites. The passion between James and Sloane just makes me so happy, they're so cute together and have such a great relationship. It's such a heartbreaking story to the point where I found myself in tears more than a few times. If I lived in this world, I would never want to lose all my memories, no matter what the outcome. What's the point of living, if they take the best parts of you? The good times and the bad, they make up who we are and the idea of something with the ability to take those memories away scares the crap out of me. I simply couldn't put this book down and I read it in a few hours with the need for more. Certainly one of the best books I've read.